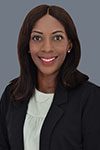 Bertha Tsitsi Zakeyo | Legal and Compliance Officer
I joined Healy Consultants Group PLC in May 2022 as a Legal and Compliance Officer. Prior to that, I used to work as internal legal counsel for a Company in Zimbabwe.
My business goals

To ensure that I am up to date with global trends in the area of AML/CFT and prompt to report any changes in the law.
To assist other departments in legal and compliance matters.
To initiate and coordinate compliance training for all staff members on different compliance related topics at least twice a year.

My daily work schedule

Catch up on emails and organize my task in order of priority.
Assess client files and their risk level and collect necessary due diligence documents.
Review existing client files for any potential risks.
Assist other departments with compliance and or legal matters.
Preparing reports and updates for Management.

The most interesting work I ever did

In Zimbabwe, I sat on a Board for an organisation the empowered women at grass roots levels by partnering with donor organisation to teach them how to become self-sufficient income earners. My role was to assist in writing policies and the Constitution. This was very interesting to me as I had to draft contract with donor organisations from other countries and jurisdictions. Being the link between the grass roots women, the organisation and the donor was the most interesting work I had ever done.

The most rewarding work I ever did

A company I worked for had as its corporate social responsibility, visiting orphanages. This was very rewarding for me as it taught me to always be grateful for opportunities you get in life, however big or small.

Pastimes

Reading
Swimming
Watching sports

Business style

Task oriented
Organised
Believe in work/life balance

Languages I speak
Contact our firm
Your query will be handled promptly by one of our in-house experts based on the nature of your query and your country of interest.