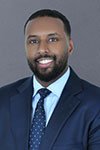 Mohamed Darman | Senior Client Relationship Officer
I joined Healy Consultants Group PLC in April 2021 as a Senior Client Relationship Officer. Prior to that, I used to work in education consultancy, project management, and strategic partnerships.
My business goals

To provide a comprehensive understanding to clients, using a process driven approach.
Deliver value-added consultancy to clients from any, and all industries.

My daily work schedule

Project manage engagements that cover a plethora of jurisdictions around the world
Deliver quality consultancy to client who require it before engaging with Healy Consultants Group PLC
Illustrate value through relationships and a secular understanding of client needs.

The most interesting work I ever did

Support for government departments, centralising a de-centralised ERP system

The most rewarding work I ever did

In collaboration with the Department for Work and Pensions in the UK, under the kick-start scheme, I actively run two programmes in the UK that assist students from low-income backgrounds to get into education and ultimately find work.

Pastimes

Writing
Sports – Basketball / Football
Socializing

Business style

Supportive;
Inclusive;
Aware.

Languages I speak

A sample of my global business experience

Providing consultancy for clients across the MENA region.
Contact our firm
Your query will be handled promptly by one of our in-house experts based on the nature of your query and your country of interest.