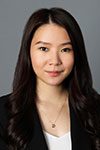 Janyl Irsalieva | Client Relationship Manager
I joined Healy Consultants Group in December 2021 as a Client Relationship Officer. Prior to that, I used to work in a top commercial bank in Kyrgyzstan as a Treasury Officer.
My business goals

To gain experience in working with clients from all over the globe
To positively impact clients' businesses by providing excellent service
To become an expert in business setup industry
To launch mentorship program for young female professionals

My daily work schedule

Project managing client engagements
Assisting clients with the process of opening corporate bank accounts
Preparing business plans, project plans and weekly updates on the engagements

The most interesting work I ever did

Quoting exchange deals to clients and counterparties during high volatility of FX markets.

The most rewarding work I ever did

I was the project leader for the digital transformation of a commercial bank. My team and I conducted successful data transfer of 300K plus customers, foreign exchange deals and interbank transactions in the banking system.

Pastimes

Business style

Result-driven
Proactive
Persistent

Languages I speak

English, Russian, Kyrgyz and Turkish
Contact our firm
Your query will be handled promptly by one of our in-house experts based on the nature of your query and your country of interest.