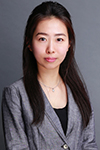 Jessie | IT Manager
I joined Healy Consultants in May 2014, initially as web developer and SEO specialist. I joined Healy Consultants headquarter office in Singapore as it gave me the opportunity to work with a diverse mix of people in a dynamic working environment.
My business goals

To be a technology expert

My daily work schedule

Focus on implementing white hat SEO techniques;
Develop ideas and strategies to improve website rankings

The most interesting work I ever did

Experimented with different SEO techniques to figure out which ones work best.

The most rewarding work I ever did

Seeing increment in website's rankings for target keywords after implemented SEO strategies.

Pastimes

Business style

Role model

Nick Vujicic;
Michael Dell

Past work experience
Contact our firm
Your query will be handled promptly by one of our in-house experts based on the nature of your query and your country of interest.