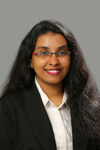 Michelli Fernando | Compliance, Accounting and Tax Associate
I joined Healy Consultants Group PLC in March 2023 as a Compliance, Accounting and Tax Associate. Prior to joining, I worked as an Accountant for a UAE accounting firm, an Australian-based company and in one of the big four accounting firm. I now use my skills, knowledge, and experience to serve Healy Consultants Group PLC's clients and staff.
My business goals

Enhance my skills and knowledge in accounting, taxation and filing requirements, specifically in the USA, Singapore, Hong Kong, Zambia, Kuwait and UAE.
To understand client requirements and serve them with quality deliverables in a timely manner.
Expertise in advising clients for accounting and taxation in various countries worldwide, including the USA, Singapore, Hong Kong, Zambia, Kuwait and UAE.

My daily work schedule

Assisting clients with accounting and tax requirements accurately while meeting statutory obligations such as annual returns, tax filings, VAT/GST filings, and audited financial submissions.
Preparation of financial statements and tax calculations for our clients in the USA, Singapore, Hong Kong, Zambia, Kuwait and UAE.
Project managing client engagements in countries such as the USA, Singapore, Hongkong and UAE.
Coordinating with peers, management, and service providers to provide solutions to clients.

The most interesting work I ever did

Detailed research on the Impact of Corporate Governance on the Financial Distress of Listed Financial Companies in Sri Lanka. It was interesting as I was able to analyze facts using different tools and obtain knowledge of the corporate governance structure.

The most rewarding work I ever did

Our team successfully implemented a Project Accounting procedure for a complex project-based client using a tracking system for each project. We were able to standardize client procedures providing the client with more visibility of the project status. In return, the team has received compliments from the client.

Pastimes

Spending quality time with Family.
Playing badminton.
Traditional dance in Kandyan and Bharatha Natyam.

Business style

Organized.
Keen to learn.
Dedicated to client engagements.
Attention to detail.

Languages I speak

A sample of my global business experience

Preparing accounting and tax reports for multi-national clients based in various jurisdictions, including Singapore, Hong Kong, UAE, Zambia, Kuwait and the USA.
Contact our firm
Your query will be handled promptly by one of our in-house experts based on the nature of your query and your country of interest.