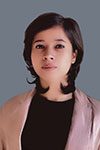 Neha Gupta | Accounts Officer
I joined Healy Consultants Group PLC in August 2022 as an Accounting Officer. Prior to that, I used to work as a Risk Advisory professional with one of the big4 accounting firms. I hold experience in the field of Risk Assurance, International Financial Reporting Standards (IFRS), International Accounting Standards (IAS) and Audit working for Global MNCs. As part of Healy Consultants, I am here to assist you in your business challenges!
My business goals

To assist Healy Consultants clients with my knowledge in managing their Accounting, Tax and Compliance matters more efficiently.
To help clients be more focused on key operational areas and be one point solution for all your financial concerns.

My daily work schedule

Assisting Healy Consultants clients with timely and accurate Accounting to make them compliant in all legal aspects.
Taking care of Healy Consultants clients end-to-end Accounting & Tax requirements.

The most interesting work I ever did

Assisted a global FMCG company with our Accounting & Tax solution and helped them save on taxes and plan their smart business moves.

The most rewarding work I ever did

Helped an Indian based, smart electric bike manufacturer company in monitoring their key compliances by developing a KPI based checklist. I was appreciated by the client for keeping them compliant to laws with right Accounting.

Pastimes

Travelling
Bike riding
Music

Business style

Detail oriented
Coordinated
Well planned

Languages I speak

A sample of my global business experience

Assisting in Accounting and bookkeeping for multi-national clients in various jurisdictions including India, Nepal, Singapore, Saudi Arabia, China, Netherlands, etc.
Contact our firm
Your query will be handled promptly by one of our in-house experts based on the nature of your query and your country of interest.