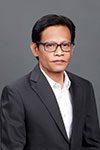 Razak Ahmad | Content Writer
I joined Healy Consultants Group PLC in September 2022 as a Content Writer. Prior to that, I used to work as a marketing copywriter in creative and marketing agencies including one that specializes in serving clients in the tech, IT and telco industries.
My business goals

To develop content that is informative and relevant to our customers
To be part of the team that contributes to the future growth of the company

My daily work schedule

Keeping up to date with the latest business and economic news
Writing and editing articles, and developing website content
Meeting with team members to keep track of work progress

The most interesting work I ever did

Managed a project to revamp an Investor Relations (IR) website, ensuring that the new website is more user-friendly and informative for users.

The most rewarding work I ever did

Organised a swab test training programme for dental professionals in Singapore as part of their preparations to perform swabbing volunteer work.

Pastimes

Cycling and football
Travelling
Collecting wristwatches

Business style

Communicate clearly and effectively
Learn how to improve CX (customer experience)
Understand the local culture and business environment

Languages I speak

English, Malay and Bahasa Indonesia

A sample of my global business experience

Participating in conferences and trade exhibitions around the world including in Germany, Switzerland, Hong Kong, Vietnam and Indonesia.
Contact our firm
Your query will be handled promptly by one of our in-house experts based on the nature of your query and your country of interest.