Zomato Pvt. Ltd.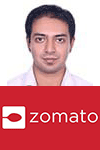 Services provided by Healy Consultants Group:
Multiple business setups in Middle-East
Professional advisory services
Resident director services
Physical office usage
Annual accounting and corporate tax filing services
Annual company renewal services
"We had taken Healy Consultants' assistance in incorporating our entities in some of the complicated jurisdictions. Their approach right from the beginning has been very systematic, clear and efficient. It has been a pleasure to work with all of them."
More about Zomato Pvt. Ltd.
Launched in New Delhi 11 years ago, Zomato has grown from home project to one of the largest food aggregators in the world. The company is present in 24 countries and 10000+ cities globally, enabling our vision of better food for more people.
Zomato not only connects people to food in every context but works closely with restaurants to enable a sustainable ecosystem.
Read more about Zomato Pvt. Ltd. here- https://www.zomato.com/ncr