Dubai agents, sponsors, distributors or partners in 2023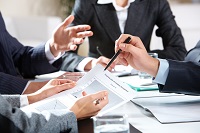 A Dubai company may find it difficult to function in the city without a local partner or agent or sponsor to assist with i) handling government bureaucracy including issuing exit and re-entry visas or ii) helping our Client navigate through the upper echelons of the Ministries. Consequently, Healy Consultants assists our Clients in Dubai company formation as well as finding a local agent or a local sponsor in Dubai;
Local agent and sponsors

Dubai Agent

Before contracting a local agent or distributor, Healy Consultants recommends

i)

visiting Dubai for a face to face meeting with the agent;

ii)

obtaining detailed due diligence from the agent including passport copy, resume, professional reference letters, etc. and

iii)

engaging a local lawyer or accountant to critically review legal agreements;
The agency contract clearly stipulates

i)

the agent will not interfere with the company's management or activities and

ii)

he/she will be paid a lump sum and/or a percentage of profits or turnover.

Agency rules

The UAE Commercial Agencies Law regulates the appointment of commercial agents, sales representatives, and distributors within Dubai. A commercial agent is appointed to distribute, sell, offer, or provide goods or services within the UAE for commission or profit;
Commercial agents must be UAE nationals or companies owned entirely by UAE nationals. Commercial agents must be registered with the Ministry of Economy and Commerce to engage in commercial agency activities;
The Ministry of Commerce and Industry has published standard forms of agency and distributorship contracts.

Benefits of agents

Government departments play a facilitator role in a Dubai resident company. All firms deal with government departments on a regular basis; agents can help foreign companies deal with bureaucracy, after company formation in Dubai;
Whilst English is widely spoken in business and government circles, all correspondence with the government authorities is conducted in Arabic. The agent will be of great help with this matter;
UAE nationals prefer to do business with someone after they are properly introduced and have met face-to-face. A Dubai agent can act as a "go-between" to vouch for the reliability of both parties.

Problems with visas

Disputes with agents causes serious problems for a Dubai company. It is important that foreign investors take steps to protect themselves including

i)

completing thorough due diligence of the proposed agent and

ii)

retaining legal counsel to review and approve a well-drafted agency agreement, before deciding to form a company in Dubai;
Commercial agents are entitled to an exclusive territory encompassing at least one Emirate for the specified products. If the agent is not the consignee, he is entitled to prevent company products being imported into the UAE;
Commercial agents are entitled to receive compensation from the principal if the agency is terminated or not renewed without substantial justification. The agent can prevent the foreign company appointing a replacement agent;
Most Dubai work visas and licenses are sponsored by UAE nationals, giving the latter indirect control over the business.

How to set up a virtual office in Dubai

Company formation in Dubai, either as onshore limited companies or within the any of the free zones available, are required to have actual office space to secure a business license;
Virtual offices are a great, cost-efficient way to license and promote your business in Dubai and other UAE emirates. This service includes:

i)

city centre business address;

ii)

business desk in a shared-office environment;

iii)

phone and mail forwarding services and

iv)

fax and email address provision;
As part of company setup or as a stand-alone service, Healy Consultants can provide quality, professional virtual office services. Our fees for virtual office provision range depending on the service chosen, including

i)

Healy Consultants' annual dormant virtual office fees range from US$1,100 to US$2,200 and

ii)

annual active virtual office service ranges from US$1,900 to US$4,900;
If our Client plans to employ staff in Dubai, a virtual office solution may no longer be useful option. Healy Consultants will be happy to cost-efficiently assist our Client secure their own permanent larger office space, during or after Dubai company formation.
Frequently asked questions