10 steps to incorporating in DRC
Setup of a DRC company by foreigners can be accomplished without our Clients travelling to the country and by simply granting a Power of Attorney to Healy Consultants local company secretary and attorney. The whole process is completed within 4 months as follows:
Pre-incorporation steps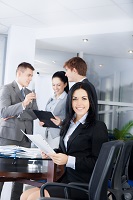 Consultation: Prior to DRC company incorporation, our Client

i)

settles Democratic Republic of Congo engagement fees

ii)

signs and returns our Client engagement letter and

iii)

provides us all the required due diligence documents;
Engagement planning: we assist our Client to decide on

i)

proposed company's name and

ii)

the optimum corporate structure including directors and shareholders. To optimize transparency and settle Client expectations during this engagement, we draft a detailed DRC company setup project plan. which maps out, week by week, each step to engagement completion;
Company name reservation: Next, we reserve the proposed name with the Commercial Registry (Guichet Unique de la Création d'Entreprise).
Incorporation steps
Granting authority: To avoid our Client's travel to DRC, our local attorney will draft a limited Power of Attorney by which our Clients will confer a local representative or our company secretary to incorporate the company, and complete statutory registration on their behalf. Our Clients must courier return notarized and legalized PoAs by their nearest DRC Embassy;
Document preparation: on receipt of legalized PoAs, our company secretary will complete company registration forms and execute the same in front of a Notary Public;
Capital contribution: In order to complete the incorporation process, our compliance team will open a capital bank account for the shareholders to deposit the statutory share capital of XAF100,0000. On receipt of these contributions, our company secretary so that the incorporation process can proceed;
Company registration: Next, we file the company registration and proof of share capital deposit at the Commercial Registry so as to obtain a RCCM number (business entity registration number). When the company has been registered, our attorney will publish the company's statutes in a local legal journal or newspaper;
Tax registration: our local company secretary will visit the Ministry of Economy to obtain a national identification number and then register the company for tax with the Directorate General of Taxation.
Post-incorporation steps
Employer registration: before employees can be hired, we register our Client's company with

i)

the Inspectorate of Labor

ii)

the National Office of Employment and

iii)

National Institute of Social Security. We also obtain operational permits from Kinshasa Municipality, or corresponding DRC municipality before the company can legally commence business;
Engagement completion: Following the company incorporation engagement completion, Healy Consultants will courier a full company kit to our Client, including original documents, unopened bank correspondence and a Client feedback survey.