Success tips when doing business in Iraq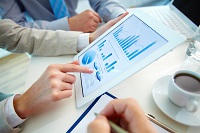 While a handshake is the formal work greeting, 'salaam' is also commonly used. When greeting a woman, our Client should wait for her to extend her hand or else, proceed with a salaam;

Men should always be dressed in a suit when meeting with a prospective Client or a business associate. Women will also be expected to dress rather conservatively in the work place;

While making an appointment on a phone, it is an accepted practice to send an e-mail later to confirm the meeting;

Prior to a meeting, it is a good practice to send an agenda of the meeting to the other party (in Arabic);

Foreign companies should be aware

i)

statistics and market data are usually imprecise

ii)

transactions tend to take longer than expected

iii)

more frequent and longer market visits are required, at least initially

iv)

complex business procedures are common;

While meetings with Government officials rarely start on time, our Clients will still be expected to be punctual;

Business cards should be exchanged during the meetings. It is a common practice to print the cards in both English and Arabic;

Decision making in Iraq can be rather slow. Our Clients must, therefore, not lose heart in the midst of the negotiations and continue showing their active interest towards reaching a deal;

Our Client should try and avoid arranging meetings during the month of Ramadan. It will be inconvenient for the Iraqi people as they observe fast during the month;

All business material must be published in both Arabic and English.
Interesting facts about Iraq
Iraq's oil industry represents 55% of the GDP and 90% of the government revenue. 84% of the country's exports comes from crude oil with major recipients being India, China, United States and South Korea;

Iraq's major imports include basic products like food and medicine with major partners being Turkey, China, Syria and United States;

Iraq is basically an Arabic word meaning 'deep-rooted' or 'the fertile';

The official English name of Iraq is the 'Republic of Iraq'. The official Arabic name is 'Jumhuriyat al-Iraq';

The official languages of Iraq are Arabic and Kurdish. The other languages spoken are Assyrian, Armenian, Azeri, Neo-Aramaic and English;

Iraq is a majority Muslim country with Shia as the majority sect. After Muslims, Christians are the most populous religion in Iraq;

Iraq stands today on the ground of the old and prosperous Mesopotamian civilization which stood between the Tigris and Euphrates river. Even Baghdad, the capital city of Iraq goes back to that era;

The Hanging Gardens of Babylon which was considered as one of the wonders of the ancient world stood in Iraq;

The Biblical Garden of Eden is believed to be in Iraq. Also, the Noah's Ark is thought to be built in Iraq;

Iraq became independent from Britain in 1932 and officially became a republic 26 years later, in 1958.