Kuwait free trade zone in 2023
Important notice: currently, Kuwait is not accepting any new applications for registration in its free trade zone.
Benefits of Kuwait free trade zone registration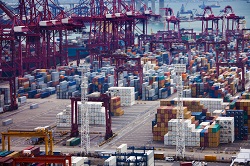 Kuwait's free trade zone (FTZ) was formally launched in 1999 to spur the export industry. The zone is located in the western part of the commercial port of Shuwaikh and in under the supervision of Ministry of Commerce and Industry.
Benefits offered by Kuwait FTZ include:
Companies can be 100% foreign owned;

Exemption from

i)

corporate tax and

ii)

personal income tax;

Goods imported in and exported from the FTZ are exempt from custom duties;

No foreign exchange restrictions and no capital controls;

Shuwaikh port is close to the international airport and capital city.
Additional benefits of investing in Kuwait FTZ
Foreign assets cannot be confiscated or nationalized unless a compensation equal to its market value is provided;

Rights and privileges obtained by a foreign investor cannot be revoked unless adequate compensation is provided;

Disputes between foreign investors and other parties (Government authorities included) may be referred to international arbitration.