Success tips when doing business in Slovenia in 2023
Business meetings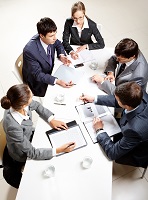 As with most Western and Central European countries, punctuality is important, and lack of it shows lack of respect;

Gift exchange during a business meeting is not widely accepted, but foreigners are welcomed to bring a souvenir from their country;

Conservative attire is preferred by Slovenes, including predominantly dark suits. Provocative clothing for women is generally frowned upon;

Maintaining confident eye contact is important throughout the meeting.
Other useful tips
While top management will always have the final say in any business environment in Slovenia, every team member is considered as valuable and their feedback is welcomed;

If you are invited in a Slovenian home, shoes must stay at the front door;

There is no formal etiquette on the exact manner of business card exchange;

If you are suggested to use the first name of your Slovenian business partner, you are welcomed to do so.
Interesting facts about Slovenia?
Business and economics
The main export partner of Slovenia is Germany with 19.1% of total exports;
Slovenia joined the EU in 2004 and is also part of the Eurozone;
The country's unemployment rate is moderate at 11.2%;
Slovenia's GDP per capita amounts to US$21,660;

Since 2016, the country experiences negative inflation of -0.1%.
Geography
Slovenia is a moderately small country with only 20,273 sq. km of land;

There are more than 10,000 caves in tiny Slovenia;

The coastline of Slovenia is just above 50km;

Half of Slovenia is covered in forest;

Triglav national park is one of the oldest national parks in Europe.
Society and culture
The country's population is just over 2 million people;

The Slovenian capital roughly translates as "The Loved One";

The largest foreign populations living in the country are Hungarian and Italian;

Bled Island is the most popular destination to get married in Slovenia.