Success tips when doing business in Turkey in 2023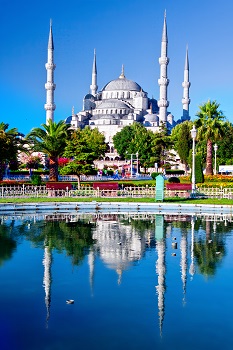 Business culture is Turkey tends to swing towards conservatism. So, our Clients should be aware of certain prevalent culture etiquettes in Turkey.
Hand shaking is the most common greeting in Turkey business negotiations. It is considered polite to stand up to shake hands when first meeting and it is perfectly acceptable to shake hands with women, though this is less common in the more conservative Eastern Turkey. Shaking hands in uncommon when departing;

Turkish businessmen should be referred to by their first name, followed by 'bey'. Naming conventions are the same as in the US and the UK, with regards to given and surnames;

Always refer to business persons by their professional titles. Other than doctor and professor, lawyers, engineers and managers all have their own unique professional titles;

When establishing a business in Turkey, expect to eat. Turkish business persons love to do business in restaurants. Turkish protocol insists that the host pay for the meal, with bill sharing an unfamiliar concept;

Business appointments are helpful when doing business in Turkey, but the majority of executives will receive visitors without an appointment if they are able to;

As not all local Turkey companies are well-versed with international trade, we encourage our Clients to consistently use and sign contracts of service;

Initial meetings should be focused mostly on relationship building, with small talk crucial towards building trust with your Turkish business partner;

Success in business negotiations with Turkish business persons comes down to the ability to create effective personal relationships and to present logically-sound business plans;

Lastly, Turkish business culture revolves not just around money but also power, influence, honor and respect.
Interesting facts about Turkey?
In its 2016 World Competitiveness Yearbook, the Switzerland-based IMD positively ranks Turkey as the world's 38th most competitive economy. The ranking takes into account factors including economic performance, government efficiency, business efficiency and infrastructure;
Transparency International, a measure of corruption amongst public officials and politicians positively ranks Turkey as the world's 66th least corrupt country in the 2015 Corruption Perceptions Index;
The Forbes magazine best countries for business 2012 survey ranks Turkey as the world's 54th best jurisdiction for business;
It is ranked the world's 79th freest economy in the Heritage Foundation's 2016 Index of Economic Freedom, a measure of freedom enjoyed in business, trade, monetary, financial, investment and labour markets;
According to the World Bank's Doing Business 2015 Survey, Turkey is the world's 55th easiest place to do business. The survey measures factors including time, cost, minimum capital and registration procedures in Turkey;
Turkey has agreed to commit to the standards set by the Organisation for Economic Cooperation and Development (OECD), which help maintain Turkey's reputable image as a secure and long-term solution for many entrepreneurs;

Turkish people answer the phone with the phrase "my master?" instead of hello;

Istanbul, the largest city in Turkey, was chosen as the cultural capital of Europe in 2010;

The Grand Bazaar in Istanbul has over 4000 shops and has been around for over 540 years;

Saint Nicholas, the inspiration for Santa Claus, was born in Patara, Turkey. He lived as a bishop on the East coast of Turkey.
Frequently asked questions