South Korea employment visas in 2023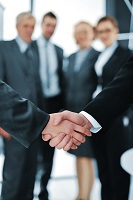 To support the South Korea visa application, Healy Consultants prepares a comprehensive business plan for company formation detailing our Client's proposed business activities, market analysis, financial projections and reasons for migration to South Korea.
Entrepreneur visa
Foreign Investors who will own, setup, or manage small to medium size industries in South Korea can apply for a corporate investment visa (D-8 Visa). In order to meet the requirements for obtaining the visa, applicants must be willing to invest at least US$45,000 in South Korea, and have all the required supporting documents on hand;

Examples of supporting documents include

i)

a passport valid for 6 months

ii)

incorporation certificates

iii)

tax certificates

iv)

a proof of investment

v)

an office lease

vi)

bank account statements;

D-8 Visas can be obtained at any South Korean embassy / consulate, by the inviting body or the applicant himself. The South Korea visa issued will be valid for 6 months, and can be extended if proof of success is provided. Upon successful extension, the D-8 visa can be valid for a period of up to 5 years depending on the applicant's position and role in the company.
Employment visa
There are several types of employment visas available for foreigners depending on the nature of their work. These visa types range from short-term employment visas for artists and performers which grant a stay of 90 days, to Professional Employment passes for those practicing law and medicine.
Long term employment visas
| Visa | Profession |
| --- | --- |
| E-1 | Educators |
| E-2 | Educators |
| E-3 | Research |
| E-4 | Technology Experts |
| E-5 | Professionals in law, accounting, or medicine |
| E-6 | Creative jobs, such as culture and art |
| E-7 | Specially designated professions appointed by the minister of Justice |
To obtain an "E" class visa in South Korea, sponsors have to apply for visa issuance certificates for their foreign applicants. Once a visa issuance certificate has been issued, sponsors need to provide applicants with the certificate number. Thereafter applicants will need to present all the supporting documents with the visa issuance number to their nearest Korean embassy/consulate for processing.
Visitor visa
If you are not on the list of South Korea visa exempt countries you will need to apply for a visa to enter the country. In order to successfully apply for a visitor visa, you will need a passport with at least 6 months validity. The average time required to issue a visitor visa is 5 working days with a processing fee of US$30 for a single entry permit.
Migrate to South Korea
International entrepreneurs find migration to South Korea straightforward thanks to Healy Consultants' comprehensive relocation services. Our services include:
Assistance with obtaining employment and residence visa from the Bureau of Immigration. Healy Consultants also helps our Clients' families obtain permits allowing them to live/work in South Korea. Healy Consultants' fee for obtaining a South Korea work permit is US$5,950;
Examples of South Korea visas available to international entrepreneurs and business people include:

D7 visa – issued to business supervisors;

D8 visa – issued to corporate investors;

D9 visa – issued to personnel planning to get involved in international trade in South Korea;

E3 visa – issued to researchers;

F2 visa – issued to personnel who are intending to apply for residency in South Korea;

F5 visa – issued to personnel who are intending to apply for permanent residency in South Korea.

Read more information and a more comprehensive list of visa types in South Korea.