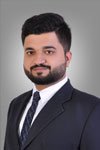 Aman Vyas | Senior Client Relationship Officer
I joined Healy Consultants Group's Dubai office in September 2020. I graduated with a Bachelor of Business Administration, specialised in Banking and Insurance, in Dubai. Now I am bringing my experience and knowledge from different internships to help advance the organisational goals of Healy Consultants Group.
My business goals

To gain expert level knowledge within Healy Consultants Group's line of work, and professionally assist Clients to effectively meet their goals.
To maintain the highest standard of ethics, education, and professional excellence while engaging with my clients, suppliers and affiliates.
To effectively nurture and utilise my existing knowledge and skill set.

My daily work schedule

Assisting senior CROs to contact global suppliers for new Client engagements.
Assisting senior CROs with the research and preparation of comparison tables.
Assisting senior CROs to contact multiple global banks for new engagements.
Assisting senior CROs to project manage engagements.
Assisting CROs to contact government agencies for licensing and processes and other research requirements.

The most interesting work I ever did

Working at Healy Consultants. I have been on a learning curve for the past few months and I continue to learn about global company set up, tax laws and banking systems.

The most rewarding work I ever did

I led a team in an 'acclimatisation' project for Microsoft for one of the UAE's biggest banks, where they adopted Microsoft Office 365 into their working practices in 2018.

My team and I trained every bank employee on MS Office 365 and its applications, installed the application on their computers.

It was challenging for me because not only was I was managing a team, but I also had to focus on my performance independently. It took three months to successfully complete the project.

Pastimes

Playing cricket, hiking and reading autobiographies.

Business style

Constantly striving to produce quality work;
Responsible, committed, efficient and adaptive.

Languages I speak
Contact our firm
Your query will be handled promptly by one of our in-house experts based on the nature of your query and your country of interest.