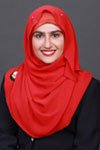 Elmira D/O Sarbudeen | Senior Accounting and Tax Officer
I joined Healy Consultants Group PLC in July 2020 as a Junior Accountant. Before that, I used to work as an Accounts Executive for a tourism firm, and briefly as an Audit Executive at Ernst & Young LLP. I graduated from Singapore University of Social Sciences (SUSS, formerly known as UniSIM) with a Bachelor in Accountancy (Hons.) in 2020. I look forward to using my knowledge and skills to assist and work together with Healy Consultants Group PLC's Clients and staff.
My business goals

To ensure that the Clients I serve are satisfied with the services provided.

To be able to provide solutions to Clients regardless of how complex the problems might be.

My daily work schedule

Preparation of financial statements, tax computations, tax declarations and AGMs on behalf of Clients.

Filing of Annual and Tax Returns with the respective accounting and tax authorities on behalf of Clients.

Constantly updating Clients via email on the status of their engagements.

The most interesting work I ever did

I had the opportunity to be a part of the soft launch of Haw Par Villa, a theme park in Singapore, in 2017. I assisted with the preparations before the event, as well as being on the ground during the actual event.

The most rewarding work I ever did

During my polytechnic days, I organised a Children's Day celebration at Clementi Student Care Centre in Singapore. Seeing the children's smiles and hearing their laughter really made my day.

Pastimes

Playing the piano.
Swimming.
Hanging out with family and friends.

Business style

Accountable.

Efficient.

Organised.
Precise.
Reliable.
Responsible.

Languages I speak

A sample of my global business experience

Liaising and assisting multi-national Clients based in various jurisdictions such as Germany, Hong Kong, Marshall Islands, Nigeria, Pakistan and Singapore with accounting and tax reports.
Contact our firm
Your query will be handled promptly by one of our in-house experts based on the nature of your query and your country of interest.