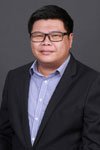 Michael Yap | Accounting and Tax Deputy Director
I joined Healy Consultants Group PLC in September 2020 as a Senior Accounting and Tax Officer. I used to work for a French luxury conglomerate, holding various roles in the group's business functions. I have also worked in a public accounting firm, handling Clients across a range of industries. Now I use my skills and knowledge to assist Healy Consultants Group PLC's clients and staff.
My business goals

To provide solutions for our Clients' problems.

To become a subject matter expert in various fields to provide value-added services to our Clients.

My daily work schedule

Review the quality of work prepared for our engagements to ensure they comply with applicable laws and professional standards.

Suggest best practices and provide alternative views to optimise the way things are currently being done, in order to improve efficiency.

The most interesting work I ever did

In my previous role in financial planning and analysis, I had full access to product margin and pricing strategy across a range of stock keeping units under leading luxury retailers, which was a real eye-opener.

The most rewarding work I ever did

I was part of a team involved in the corporate resuscitation of a distressed mainboard listed company in Singapore. Through a reverse takeover engineered by the team, we were able to bring in a white knight to pay off the existing creditors and lift the company's stocks from trading suspension.

Pastimes

I love travelling, especially to off-the-beaten path locations.

Business style

I can assess situations with a big picture view, while rolling up my sleeves to scrutinise the finer details

I am generally risk averse and tend to take the conservative approach when it comes to handling Client matters.

Languages I speak

English, Mandarin and Cantonese.

A sample of my global business experience

I have worked in the travel retail industry, covering the United States market as a division, during which I had to deal with tax matters at city, county, state and federal level, as well as managing a range of DBE partners under the purview of the Department of Transport.
I have worked across various Chinese cities with local professional firms providing outsourced internal audit functions to submit deliverables as required under the agreed internal audit plan, and also ensure all findings are delivered directly to the Board's Audit Committee during my role as Audit Senior covering a portfolio of listed companies with a significant presence in China.
Contact our firm
Your query will be handled promptly by one of our in-house experts based on the nature of your query and your country of interest.