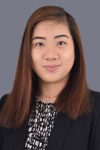 Marina Nam | Senior Accounting Officer
I joined Healy Consultants Group in April 2022 as an Accounting Officer. Prior to that, I was working as a senior auditor in KPMG Lower Gulf.
My business goals

To gain extensive knowledge and experience by working with multinational Clients and learning about accounting and taxation practices in different countries.

Develop and improve my communication skills.

My daily work schedule

Analysing and preparing financial statements and management accounts for our client's companies.

Assisting clients with their accounting and tax needs while accurately maintaining accounting and tax department's records.

Performing regular market research in order to be up to date with the most recent accounting and tax practices.

The most interesting work I ever did

I was given the opportunity to assist in preparation of reporting deliverables for a multinational company operating in various different industries.

The most rewarding work I ever did

Assist clients with the adoption of the newly issued accounting standards.

Pastimes

Cooking and exploring different cuisines from all over the world

Playing basketball and snowboarding

Spending quality time with my family and friends

Business style

Organized
Responsible
Eager to learn

Languages I speak

A sample of my global business experience

Preparing financial and accounting deliverables for multi-national clients based in UAE, Oman, India, and United States.
Contact our firm
Your query will be handled promptly by one of our in-house experts based on the nature of your query and your country of interest.