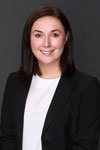 Lisa McHugh Dolan | Senior Accountant
I joined Healy Consultants Group in October 2020 as an Accountant and Client Relationship Officer. Before that, I used to work as an auditor for KPMG Dublin where I obtained my Chartered Accountant qualification. Now I use my skills and my international experience to assist Healy Consultants Group's Clients and staff.
My business goals

Expanding my skills and knowledge in Accounting, Taxation and Corporate Filings.

Obtain experience of working with Clients in different countries around the world.

My daily work schedule

To find effective and suitable solutions for my Clients.

Advancing Client engagements by means of company incorporation and corporate bank account opening.

Assisting the CFO with various accounting and tax tasks.

Ensuring all Healy Consultants Group entity transactions are accurately recorded each month.

The most interesting work I ever did

Working at Healy Consultants so far – being able to help Clients set up companies all over the world.

The most rewarding work I ever did

Volunteering at Willing Hearts, a charity that prepares meals for people all over Singapore.

Pastimes

Travelling.
Reading.
Hiking.

Business style

Communicative.

Organised.

Adaptable.

Languages I speak

English and Intermediate German

A sample of my global business experience

Auditing large multi-national companies based in Ireland, the UK and the US.
Contact our firm
Your query will be handled promptly by one of our in-house experts based on the nature of your query and your country of interest.