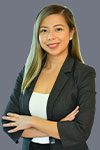 Psalm Santiago | Junior Accounting Manager
I joined Healy Consultants Group in November 2021 as an Accounting Officer. Prior to that, I used to work as a Management Accountant for the largest real estate business in Australia. I have also worked in accounting firms and handled Client engagements across a range of industries. I am a certified Chartered Accountant member. Now I use my skills and knowledge to assist Healy Consultants Group's Clients and staff.
My business goals

To gain extensive knowledge and experience to be the go-to expert for multinational Clients, specialising in at least three countries, jurisdictions or industries.

To be able to confidently advise multinational Clients regarding business improvements and/or developments to meet their business goals and objectives, such as improving profitability, employee retention, tax planning and so on.

To understand the needs of business owners and contribute when required to assist with informed decision making within the business.

My daily work schedule

To assist our Clients with timely and accurately meeting the specific statutory and legal obligations in their local jurisdictions.

To project manage Client engagements, including accounting, tax, banking, legal and regulatory requirements.

To timely and accurately update all internal accounting and tax department's status and database.

The most interesting work I ever did

I was given the opportunity to develop and implement our team's monthly management report template using Xero accounting software tailored for our real estate Clients. The monthly management reports were used within their businesses and assisted them when making informed business decisions.

The most rewarding work I ever did

Our team was involved with assisting our Clients with ad hoc tasks during Covid in Australia, including preparing forms and documents to obtain government incentives, preparing cashflows and ensuring businesses are still compliant even during the challenging changes in the working environment globally. We received many positive Client feedback during this process including helping business owners feel at ease during these uncertain times because of our work.

Pastimes

Travelling and exploring new places

Cooking and trying delicacies from different countries

Spending quality time with family and friends

Business style

To build professional trust-based relationships with my Clients in order to confidently discuss the financial matters of their business
To follow and maintain ethical business practices
Has a 'can-do-attitude'

Languages I speak

A sample of my global business experience

Liaising and assisting multinational Clients based in various jurisdictions, such as UK, Australia, New Zealand and Singapore with accounting and tax matters.
Contact our firm
Your query will be handled promptly by one of our in-house experts based on the nature of your query and your country of interest.