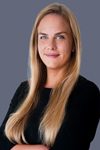 Amanda Rose VanTreuren | Client Relationship Officer
I joined Healy Consultants Group PLC in October 2022 as a Client Relationship Officer. Prior to that, I worked as a Customer Success Manager for a tech start-up.
My business goals

To become an international business setup expert

My daily work schedule

Managing client engagements from A-Z (answering queries, discussing project plans, assisting with company registration and corporate bank account openings, etc.)
Project managing the entire incorporation process while providing clients with regular updates

The most interesting work I ever did

Set up the entire client onboarding and training process at my previous company.

The most rewarding work I ever did

Managed a complex 5-month EMR integration to successful completion.

Pastimes

Business style

Languages I speak

A sample of my global business experience

Managed the launch of a new SaaS solution to all of our international clients.
Contact our firm
Your query will be handled promptly by one of our in-house experts based on the nature of your query and your country of interest.