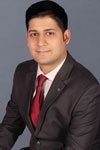 Apurv Trivedi | Principal – Client Engagements
I joined Healy Consultants Group PLC in 2020 as a Client Engagements Officer. Before that, I spent 5 years working at a cross-border management consulting firm handling client engagements involving Go-To-Market (GTM) strategies, acquisitions, and global research assignments. Now I use my skills and knowledge to assist Healy Consultants Group PLC's Clients structure most effective and high-quality solutions for global business set-ups.
My business goals

Understanding the dynamics of international expansion plans of leading corporations and entrepreneurs, at the same time educating myself on how businesses are structured and modelled;

To maintain the highest standards of ethics, education, and professional excellence while engaging with my clients, suppliers and affiliates;

Gain knowledge and international experience to help companies successfully navigate through the nuances of operating across global jurisdictions.

My daily work schedule

Discussing global business and banking solutions with potential clients and providing optimal solutions for their needs;

Project managing client engagements and supplying deliverables such as project plans, business plans and weekly updates in the process;

Provide assistance to other members of the team wherever I can, leveraging my knowledge and experience to supplement my team's abilities and tailor the best solutions for our clients.

The most interesting work I ever did

Convincing a leading multinational B2B supplier to position their products in the B2C space for a particular geography against their global strategy. The very specific nuances of that particular geography called for more consumer awareness even to succeed in the B2B space. Developing business plans and retail roll-out for a company with huge reservations on any consumer exposure was an amazing challenge.

The most rewarding work I ever did

Successfully assisting an international company set-up their dairy business in India, navigating through the regulatory challenges of the world's largest dairy market, highly skewed to favour the local suppliers.

Pastimes

Travelling to new countries;
Reading non-fiction and mystery novels;
Sports aficionado.

Business style

Focussed, perseverant and result oriented;
Visionary and big-picture thinker;
Transparent and Honest.

Languages I speak

English, Hindi and learning Spanish.

A sample of my global business experience

Have conducted multiple global market research assignments across domains and geographies;
Have assisted numerous clients for their business set-ups in multiple jurisdictions across the globe.
Contact our firm
Your query will be handled promptly by one of our in-house experts based on the nature of your query and your country of interest.