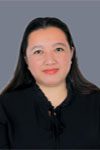 Charmine Maglines | Front Desk and Administrative Officer
I joined Healy Consultants Group in October 2022 as a Front Desk and Administrative Officer. Prior to coming to Dubai, I used to work in one of the leading banks in the Philippines. My past experiences helped me to become proactive and a competitive individual in whatever industry I worked in.
My business goals

To lead a team where I can share my knowledge in good customer service and administration.

To lead a positive mindset, despite the hectic schedule and deadlines.

My daily work schedule

Screening and forwarding calls to concerned addressee.

Maintaining the cleanliness and tidiness in the work environment.

Making sure that the office is operational.

The most interesting work I ever did

It was the work I did working with the Filipino-Chinese communities in opening savings and time deposit accounts with multiple instructions at very short notice that was the most interesting.

The most rewarding work I ever did

Most rewarding work I ever did was making friends with my clients that was built in time and trust.

Pastimes

Street Photography

Watching Documentaries (Travels, Foods and Cultures)

Cooking

Going to thrift shops

Business style

Attention to details

Team-Player

Goal setter

Languages I speak

A sample of my global business experience

In my previous company which deals with the international distribution, I was in charge with consolidating the documentations and logistics procedures of exporting of goods and services to African and European countries.
Contact our firm
Your query will be handled promptly by one of our in-house experts based on the nature of your query and your country of interest.