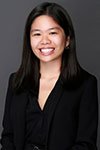 Chloe Tan | Website Content Writer
I joined Healy Consultants Group PLC in April 2021 as a Website Content Writer. Prior to that, I completed a few internships and worked on projects after graduating from UCLA. Now, I use my versatile writing skills and knowledge to assist Healy Consultants Group PLC.
My business goals

To gain unique business knowledge and enhance my writing skills

To make a difference to the business and leave a legacy .

My daily work schedule

Creating quality content for our website;

Reviewing content from the team;

Conducting quality research to improve our website.

The most interesting work I ever did

In college, I wrote a script for a play that was a response to a well-known movement advocating for women to live safely and freely. As well as being interesting, it felt empowering to be part of that.

The most rewarding work I ever did

Creating my first blog post for our website. It made me feel that my work is significant to Healy Consultants and made me feel connected to my team.

Pastimes

Writing creatively in forms of prose, poetry, or short story;
Doing things/new things to stimulate my reality;
Traveling and experiencing places and cultures authentically.

Business style

Pedantic to a fault (positively) ;

Adaptable;

Enthusiastic.

Languages I speak

A sample of my global business experience

Preparing and updating several country banking and accounting and tax pages, including Ireland, Iraq, Israel, Kuwait, Qatar, and Malaysia.
Contact our firm
Your query will be handled promptly by one of our in-house experts based on the nature of your query and your country of interest.