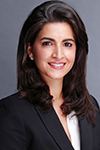 Chrissi Zamora | CEO of Europe & Middle East
I joined Healy Consultants Group in May 2013 as a Client Relationship Officer and since then was promoted several times to become the CEO of Europe & Middle East in 2018; In 2017 I relocated from the Singapore Headquarters to UAE to set up the Group subsidiary in Dubai. I now project manage multiple complex engagements in Middle East and Europe and lead Healy Consultants Group Dubai to be the happiest, most efficient and profitable office within the Group;
My business goals

To make business registrations easy and straightforward for my multinational Clients, in challenging jurisdictions such as Saudi Arabia, Kuwait, UAE or Philippines;

Open Healy Consultants subsidiaries in London and Spain by 2022;

Lead Healy Consultants Group Dubai to be the happiest, most efficient and profitable office within the Group;

My daily work schedule

Discuss global business and banking solutions with Clients;

Supervise the Dubai office and assist my team with their engagements;

Project manage my ongoing engagements around the world.

The most interesting work I ever did

The three projects that first come to mind are:

Multiple company set ups in Dubai, India, China for my USA PLC client;

Indonesia fast nominee solution for our Australian Client;

Bahrain turnkey solution for my UK client;

The most rewarding work I ever did

My first Jordan engagement for Zomato and my first Saudi company set up for a UK Client

Pastimes

Padel tennis, Volleyball, visiting new countries, reading romantic books and spending time with my loved ones.

Business style

I am aggressive and straight to the point when liaising with Clients and global partners;

At times and in complex matters, slow but steady

Efficient and responsible;

Languages I speak

Spanish and English.

Learning Arabic in 2018

A sample of my global business experience

I have project managed company formation and banking in UAE, Bahrain, Saudi Arabia, Jordan or Egypt;

I also completed company registrations and bank account openings in Thailand, Philippines, Indonesia, China, South Korea, Pakistan, Australia, New Zealand;

Multi-currency corporate bank accounts

Over the years, I assisted multi-national Clients open corporate bank accounts in Singapore, Hong Kong, Indonesia, Thailand, Malaysia, Labuan, Pakistan, Jordan, Egypt, Australia, New Zealand, Dubai, Bahrain, the UK and several other countries.

The most unusual engagement I did

Simultaneous engagements in different Asian jurisdictions for a Money Exchange licensed company!
Contact our firm
Your query will be handled promptly by one of our in-house experts based on the nature of your query and your country of interest.