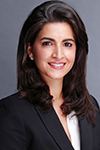 Chrissi Zamora | CEO of Europe & Middle East
I joined Healy Consultants Group in May 2013 as a Client Relationship Officer and since then was promoted several times to become the CEO of Europe & Middle East in 2018; In 2017 I relocated from the Singapore Headquarters to UAE to set up the Group subsidiary in Dubai. I now project manage multiple complex engagements in Middle East and Europe and lead Healy Consultants Group Dubai to be the happiest, most efficient and profitable office within the Group;
My business goals

To make business registrations easy and straightforward for my multinational Clients, in challenging jurisdictions such as Saudi Arabia, Kuwait, UAE or Philippines;

Open Healy Consultants subsidiaries in London and Spain by 2022;

Lead Healy Consultants Group Dubai to be the happiest, most efficient and profitable office within the Group;

My daily work schedule

Discuss global business and banking solutions with Clients;

Supervise the Dubai office and assist my team with their engagements;

Project manage my ongoing engagements around the world.

The most interesting work I ever did

The three projects that first come to mind are:

The most rewarding work I ever did

Pastimes

Padel tennis, Volleyball, visiting new countries, reading romantic books and spending time with my loved ones.

Business style

I am aggressive and straight to the point when liaising with Clients and global partners;

At times and in complex matters, slow but steady

Efficient and responsible;

Languages I speak

Spanish and English.

Learning Arabic in 2018

A sample of my global business experience

I have project managed company formation and banking in UAE, Bahrain, Saudi Arabia, Jordan or Egypt;
I also completed company registrations and bank account openings in Thailand, Philippines, Indonesia, China, South Korea, Pakistan, Australia, New Zealand;

Multi-currency corporate bank accounts

The most unusual engagement I did

Simultaneous engagements in different Asian jurisdictions for a Money Exchange licensed company!
Contact our firm
Your query will be handled promptly by one of our in-house experts based on the nature of your query and your country of interest.