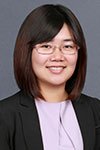 Fenna Ho | Accounts Executive
I joined Healy Consultants Group PLC in 2019 as an Accounts Assistant to the CFO. Before that, I used to work in Deloitte & Touché as an Auditor. Now I use my skills and knowledge to assist Healy Consultants Group PLC's clients and staff.
My business goals

Expanding my skills and knowledge in Accounting, Taxation and Corporate Filings;

To consistently improve on the quality of my deliverables.

My daily work schedule

Marking bank statements;

Keying in monthly accounts using MYOB;

Making payments;

Accurately writing cheques;

Ad-hoc jobs for the CFO.

The most interesting work I ever did

Performing an inventory count in Singtel warehouse and in ESI warehouse.

The most rewarding work I ever did

Volunteering in a home for the elderly.

Pastimes

Reading;
Watching movies;
Spending time with friends and family.

Business style

Responsible;
Adaptable;
Trustworthy.

Languages I speak

A sample of my global business experience

Preparing and filing TDS, GST, tax and annual returns in Singapore, India and Ireland.
Contact our firm
Your query will be handled promptly by one of our in-house experts based on the nature of your query and your country of interest.