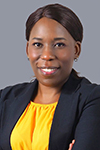 Grace Odhiambo | Senior Client Engagements Manager
I joined Healy Consultants Group PLC in January 2014, initially as Aidan Healy's Personal Assistant at the Singapore HQ office. My decision to come to Asia to seek employment was filled with uncertainty, having to leave my family behind in Kenya. However, this has turned out to be one of the best decisions I ever made. Not only did I managed to get a very fulfilling job working at Healy Consultants, I also got to learn about how to incorporate businesses worldwide which requires a lot of research and reading. We also get to interact with Clients from all over the world and learn about different cultures.
My business goals

Incorporate as many companies in Africa as possible every month;

Open corporate bank accounts for lots of Clients all over the world;

Make sure Aidan's travel plans are always done months before he has to travel;

Make lots of money.

My daily work schedule

Writing webpages for new countries for Healy Consultants website;

Promoting Healy Consultants' webpages on Social Media;

Assisting CROs with Client engagements;

Business development tasks;

Assisting Aidan with office management tasks as well as personal tasks;

Assisting IT department with Google rankings and SEO strategies implementation.

The most interesting work I ever did

Healy Consultants – The last 2 years have been a learning experience. I continue to learn about company setup all over the world.

The most rewarding work I ever did

Managing an office on my own as my boss travelled to China on a business trip. I was left in charge of over 100 Clients, 30 staff, 6 bank accounts and the payroll/accounts department. It was a very challenging task but I managed it well.

Pastimes

Reading novels and magazines, travelling, yoga and baking.

Business style

Organized, articulate, knowledgeable and efficient.

Role model

A sample of my global business experience

ITP Publishing Group, Dubai
Gallo Images, Dubai
Nextcity Property Care Ltd
Contact our firm
Your query will be handled promptly by one of our in-house experts based on the nature of your query and your country of interest.