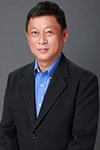 Henry Tan | Company Chauffeur
I'm an all-rounder. I like meeting and communicating with people. I enjoy the challenge of solving problems when they arise; improvising and thinking about what comes next. I care about details and providing results.
My business goals

To make Clients and staff happy.

My daily work schedule

I chauffeur my boss and Clients to and from destinations in a comfortable, safe and timely manner;

Keeping the vehicle clean and ready to drive without issue at all times;

Office repairs and errands;

Managing Clients' hotel and travel logistics.

The most interesting work I ever did

I have always been a full-time driver and I love communicating with people from different countries. Talking about their business, their family, their city life.

The most rewarding work I ever did

Returning lost items to a passenger.

Pastimes

Spending time with my family.

Business style

Honest;

Responsible;

Problem solver.

My role models

Past work experience

Taxi driver, Limousine chauffeur
Contact our firm
Your query will be handled promptly by one of our in-house experts based on the nature of your query and your country of interest.