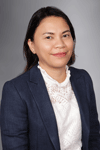 Marrianne Hope Rabanes | Client Relationship Officer
I joined Healy Consultants Group PLC in March 2020 as Front Desk Officer. Before that, I used to work in E-Learning company as Admin-Incharge. Now I use my skills and knowledge to assist Healy Consultants Group PLC's clients and staff.
My business goals

To ensure business growth and smooth operation across departments;
To harness my skills and develop new ones;
To develop a strong work ethic.

My daily work schedule

Responsible for answering, screening and forwarding incoming calls;
Receiving, greeting, and directing visitors if there's any meeting with CROs;
Ensuring the office is operating very well;
ensuring healthy snacks available in the pantry;
organizing quarterly team bonding activities.

The most interesting work I ever did

I organized a 2-week event in South Africa in 2019 that hosted 5000 delegates. I was involved in creating and hosting the programs and assisted the delegates personally. It was a great although exhilarating experience. I met a lot of people and learned a lot from South African culture.

The most rewarding work I ever did

In my line of work, what's constant is Customer Support. The feeling of extending a helping hand to all kinds of people of varying age and background has always been most rewarding for me. When I am able to help a person or a group of people resolve an issue, there is always that feeling of self-worth and validation.

Pastimes

Watching netflix;
trekking;
cooking.

Business style

Punctual;
Honest;
Team player.

Languages I speak

A sample of my global business experience

I worked as Events Coordinator in a multi-national company where we do Annual Conference and invite members from different countries. I was working with different suppliers from Greece, Malaysia, Brazil, Mauritius and South Africa. I was making sure our members arrive at the destination smoothly by booking their flights and hotel, processing visas, arranging transfers from airport to hotel and making sure to take note of their diet. I learn how to be flexible and be aware of cultural differences.
Contact our firm
Your query will be handled promptly by one of our in-house experts based on the nature of your query and your country of interest.