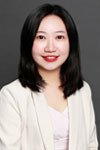 Ong Hui Min | Social Media & Content Manager – Chinese
I joined Healy Consultants Group PLC in July 2021 as a Chinese Social Media & Content Manager. Prior to this, I completed a few placements which equipped me with valuable skills necessary in gaining access to the Chinese market. Having graduated with a Bachelor of Arts (Hons) in Chinese and a minor in Translation, I am effectively bilingual in both English and Mandarin. At work, I craft digital marketing strategies and find creating and curating quality content highly enjoyable. I believe that a good marketing solution should be data-driven and actualised with passion and creativity.
My business goals

Establishing company/market presence in China for Healy Consultants.
Expanding and leading a professional marketing team for the Chinese market.
Upholding our firm's image through social media branding and handling Client enquires professionally.
Reaching out to potential Clients through content marketing and generating quality leads.

My daily work schedule

Conduct research to stay abreast of industry trends and news.
Curate and create quality content.
Maintain a social media calendar that provides an overview of content pipeline, scheduling, and posting.
Review performance through clear metrics and engage in data analysis to refine strategy.
Skilfully and professionally engage with our Chinese social media followers.
Collaborate with my colleagues and report to the Asia Pacific Deputy CEO.

The most interesting work I ever did

I started a passion project last year with two of my friends when we were all cooped up at home during the lockdown. We built a bilingual website and populated it with content pieces and illustrations. Our content revolves around life and aims to make more abstract thought accessible to all. We also hope that it will springboard us to a greater understanding of ourselves and how we understand the world.

The most rewarding work I ever did

I lead the Nanyang Technological University (Singapore) United Nations Student Association volunteers for Project Meraki 2.0 and Project Meraki3.0, improving access to quality and sustainable education for Chin and Rohingya refugees in Kuala Lumpur, Malaysia. As an advocate for peace, culture and education, I find it extremely important to give back to society. For me, it is especially rewarding to be able to inspire and empower refugee children through education.

Pastimes

Reading
Eating
Travelling
Personal finance

Business style

Value-oriented
Data-driven
Creative
Dependable

Languages I speak

Simplified & Traditional Chinese (Native), English (Native), Hokkien (Conversational), Teochew (Conversational), Cantonese (Conversational).

I love new languages and cultures which is why I am currently learning basic Korean, French and Bahasa Indonesia.

A sample of my global business experience

As a member of the Business China Youth Chapter in Singapore, I have had many opportunities to deepen my understanding of the social, cultural and economic aspects of China beyond academics. This membership has also given me the privilege to interact with like-minded youths with an interest in China, as well as professionals and entrepreneurs working in China.

Concurrently, as Managing Editor at ASEAN Business Youth Association, I have conducted research on ASEAN countries and created quality content about the region that would interest the youth.

I have also previously interned with an e-commerce firm, assisting key account managers in managing relations with more than 20 China brands through co-ordination of internal and external stakeholders on a regional and local level.
Contact our firm
Your query will be handled promptly by one of our in-house experts based on the nature of your query and your country of interest.