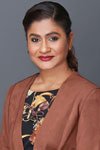 Jaya Thevathasan | Client Relationship Officer
I joined Healy Consultants Group in 2019 as a Receptionist cum Admin Assistant. Before that, I used to work for an advertising firm as a Sales Consultant. Now I use my skills and knowledge to assist Healy Consultants Group's Clients and staff.
My business goals

I would like to be someone with deep expertise in Administration as well as at the Reception Duties;

Will be excited to take on more leadership responsibilities in the next few years.

My daily work schedule

Redirecting all incoming calls to the relevant person in charge;

Providing healthy fruits to colleagues, organizing in-house yoga and massage sessions. Ensuring a stress-free workplace for all of us;

Project manage Mr Aidan, staff and Client's travel when required.

The most interesting work I ever did

I was working with an advertising production Company and we have built lots of interesting and creative structures for our Clients. Seeing all the end products of our work was just amazing. Each project had its own uniqueness.

The most rewarding work I ever did

I love being a hotelier. Met a lot of interesting people in life and it's amazing that I am still in touch with my guests who are very close to my heart. Very rewarding to earn people's love and trust.

Pastimes

Passionate towards dance;
Spending precious time with my children.

Business style

Highly organised;
Problem solver;
People person;
"Can do" attitude.

Languages I speak

A sample of my global business experience

I worked for an Australian firm dealing with soft skills training. I was the Workshop Coordinator for Maura Fay workshops in Asia. I had to ensure I plan and coordinate well for the participants and trainers who travel from different parts of the world. I had to ensure the accommodations are booked accordingly to the individual preference. The training venues must be organised and made sure there isn't any hiccups on the day of the training.
Contact our firm
Your query will be handled promptly by one of our in-house experts based on the nature of your query and your country of interest.