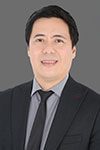 Jerahmeel Togonon | Executive Assistant
I joined Healy Consultants Group PLC in January 2022 as an Executive Assistant. Prior to that, I worked as an Administrative Assistant in a real estate company in Dubai, UAE.
My business goals

To further my career in the administrative and executive position thereby providing strong support system to the Company
To be a reliable executive assistant/administrative professional for Healy Consultants Group

My daily work schedule

Calendar management for CEOs, related to agenda, meetings and projects/tasks
Coordinate assignments and tasks as directed for both internal and external projects
Screening client calls and transfer to available CROs

The most interesting work I ever did

That time when I worked at Dubai Airport when we set up the whole event venue, installed telephone and PC systems and made everything ready for a week-long Dubai Air show event.

The most rewarding work I ever did

Learning new skills and accomplishing daily tasks as an EA.

Pastimes

Movies;
Cooking and baking;
Singing and playing guitar.

Business style

Integrity and honesty;
Hard work;
Responsible.

Languages I speak
Contact our firm
Your query will be handled promptly by one of our in-house experts based on the nature of your query and your country of interest.