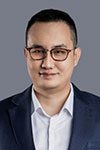 Joe Zhou | Business Website Director
I joined Healy Consultants Group PLC in 2022 as a Business Website Director. Prior to that, I have 9 years of experience in academia and media industry. I hold the prestigious Lee Kuan Yew Gold Medal and Koh Boon Hwee Scholars Award for academic and leadership excellence. I obtained my Master's degree with perfect GPA score, and graduated as the top student in the cohort for my Bachelor's degree, both at Nanyang Technological University, Singapore.
My business goals

Elevate Healy Consultants' content and marketing standards to world-class;

Drive leads for our CROs through business website and social media content.

My daily work schedule

Lead my team in all areas of content production and IT related matters;

Oversee the editorial calendar and ensure all tasks are on track to completion;

Establish and expands the company's social media presence in Greater China;

Strategize and implement actionable tasks to improve our business website and social media platforms;

Network with news agencies, organizations and prominent individuals to boost our brand and seek new opportunities for the company;

Been the bridge between Business Owner and my team members, closing communication gaps and boosting morale of the department;

The most interesting work I ever did

Chatting with world renowned economist and politicians over coffee.

The most rewarding work I ever did

Led the production of multimedia content that garnered 1.4 million views.

Pastimes

Physical training;
Reading and writing;
Meeting people all over the world.

Business style

Decisive and efficient in all matters;
Do quality work and maintain high professional standards;
Highly committed and will not hesitate to engage in work after office hours if required;
Focused, meticulous, creative and energetic;
Strive to be a great leader, balancing empathy and high standards for my team members

Languages I speak

A sample of my global business experience

Interviewing top politicians and entrepreneurs in Asia. Led the production of in-depth. analytical multimedia content on Greater China's financial and political development.
Contact our firm
Your query will be handled promptly by one of our in-house experts based on the nature of your query and your country of interest.