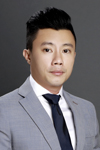 Chua Kelvin | Senior Client Relationship Officer
I joined Healy Consultants Group PLC on 1st March 2023 as a Senior Client Relationship Officer. Prior to this position, I used to be a Project Manager in an IT Solutions Firm and a Fintech small to medium-enterprise. I have worked with multinational corporations and SMEs alike. Across my stints in various employments, I have honed over the years, my interpersonal skills and adaptability as well as teachable skills that are software and project management related. My desire would be to aggregate these skills together to hopefully provide flexible solutions, exceptional outputs and satisfaction to my future end clients.
My business goals

To attempt obtaining a win-win situation in any project I engage with, having successfully achieving both client's and internal (human) resource satisfaction at the end of every project;
To sharpen the capability of setting measurable goals for my clients and clearly delineate between short-term and long-term;
To obtain a more in-depth understanding of financial models and its analysis, in the bid to possibly start up my own business;
To completely grasp formal and informal communicative skills of one more non-native language.

My daily work schedule

Optimizing tasks by checking outstanding and incoming assignments accurately and executing regular housekeeping;
Identify priorities and set realistic timelines;
Plan and Provide buffer time for multilayer checks where feasible for every task executed;
Maintaining agility and flexibility under changing environments.

The most interesting work I ever did

Engaging in humanitarian work with military leaders from the APAC region that required proper planning and execution on a foreign land;
Doing something not within my area of expertise, managing an event with a crowd of beyond 200 pax while performing an emceeing role.

The most rewarding work I ever did

Being involved in a voluntary work within Singapore, serving the old folks institutions timely evening meals before their daily slumbers.

Pastimes

Love playing recreational tennis;
Basic bodyweight exercises;
Spending personal time with loved ones.

Business style

Transformational;
Collaborative;
Consultative;

Languages I speak

English, basic Chinese and basic Teochew (native dialect)

A sample of my global business experience

Project Managing and overlooking the entire IT Infrastructure migration of a Multi-National Corporation client, working closely with various stakeholders from different countries, mainly within the APAC and Europe regions.
Contact our firm
Your query will be handled promptly by one of our in-house experts based on the nature of your query and your country of interest.