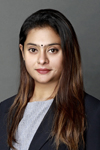 Kugenyamalar D/O Muniandy | Accounts Executive
I joined Healy Consultants Group PLC in 2023 as an Account Executive. Prior to that, I used to work for manufacturing company as an Account Executive. Now I use my skills and knowledge to assist Healy Consultants Group PLC's clients and staff.
My business goals

To gain more skills and knowledge in multinational accounting and tax.
To deliver high quality of work output

My daily work schedule

Assist client's account.
Prepare monthly expenses analysis
Prepare quality renewal invoices
Arrange renewal payments

The most interesting work I ever did

Managing a company's Petty Cash and accounts

The most rewarding work I ever did

Arranging Vendor's payment on time and accuracy in handling petty cash

Pastimes

Cooking
Movie date
Food adventure

Business style

Flexible
Responsible
Fast learner

Languages I speak
Contact our firm
Your query will be handled promptly by one of our in-house experts based on the nature of your query and your country of interest.