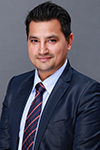 Kunal Fabiani | CEO of Americas & Africa
I joined Healy Consultants Group in July 2013, initially as Business Development Manager at the Singapore HQ office. Within 6 months I also started project managing Client engagements setting up in multiple countries across Asia and Africa and Latin America. I was promoted to Senior Client Engagements Manager in 2015 and from 2018 I am fortunate to be the CEO for the Americas and Africa.
My business goals

Expand the global reach of Healy Consultants Group;

Identify new opportunities and services that we can offer our Clients.

My daily work schedule

Discuss business setup solutions with global Clients, with a focus on Africa and Latin America;

Project manage engagements across the globe;

Update our website content;

Jointly supervise the Dubai office;

Assist and advise our Europe and Asia teams with client engagements and challenges.

The most interesting work I ever did

Event management and coordination of international exchange students.

The most rewarding work I ever did

Relocate to Dubai to setup Healy Consultants MEA office and jointly manage daily operations;

Fund raising events with WWF, Helping Hands and Lions Club for the disaster struck countries.

Pastimes

Play padel-tennis and football, discover new cuisines and travelling to new countries.

Business style

Pragmatic and results oriented;

Very meticulous at engagement planning. Consequently, I work at a measured and steady pace;

Dealing with engagement hurdles and challenges with minimum inconvenience to our Clients.

Languages I speak

English, Spanish, Hindi, Sindhi, a little bit of French and currently learning Arabic.

A sample of my global business experience

I completed several turnkey projects in Hong Kong, Singapore and India and sourced for solutions in Tunisia;

I have assisted global clients to setup legal entities in Argentina, Chile, Colombia, Mexico, Morocco, Nigeria, South Africa, Zambia, UAE, Oman, Albania, Bulgaria, Spain, Hungary, Sweden, Switzerland, South Korea and Vietnam;

My team and I assisted multiple clients find banking institutions for sale in USA, Europe, Africa and Asia Pacific;

I have conducted research and feasibility studies for complex jurisdictions and regulated business activities. Examples include

i)

an oil and gas services company in Angola and Morocco

ii)

paint manufacturing plant in China

iii)

marine geophysical and geotechnical survey subsidiary in Taiwan

iv)

payment service provider in Morocco and

v)

cable connector and cable shield manufacturing in the Philippines.

Multi-currency corporate bank accounts

I have assisted clients open corporate bank accounts in Asia, Latin America, Europe and Africa. Just to name a few: Hong Kong, Singapore, Switzerland, Latvia, Dubai, Germany, India, Vietnam, South Korea, Argentina, Mexico, Chile, Morocco, Zambia, UK, Caribbean.

The most unusual engagement I did

One of our Clients' Singapore company defaulted in payments to their own customers. To protect Healy Consultants Group from litigation and financial and reputational risk, I worked together with our compliance team and project managed the engagement to successful resolution. As a result our internal compliance and due diligence measures have been improved.
Contact our firm
Your query will be handled promptly by one of our in-house experts based on the nature of your query and your country of interest.