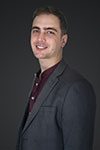 Kyle Hamalainen | IT Officer
I joined Healy Consultants Group PLC in August 2021 as an I.T. Officer. Prior to that, I worked for a number of global energy organizations, such as TOTAL, bp and SASOL based in South Africa as a Solutions Architect for the Southern African regions. Moving onto Healy Consultants Group PLC, the company has provided me an opportunity to face new challenges in an industry that's unfamiliar to me and a roster of colleagues of the highest calibre.
My business goals

To introduce new tools and optimize existing I.T. and digital platforms that our business can use to provide world-class services to our Clients.
Develop a long-term digital roadmap for the company that will provide longevity and sustainability to the organization's I.T. backbone.
Drive the I.T. development lifecycle to provide a reliable platform for global expansion.

My daily work schedule

To spend time with the different departments and understand their daily workflows and challenges.
Look for new ways the business can better utilize digital tools to improve their daily tasks.
Drive efficiencies in the form of costs and time savings.
Develop digital solutions to legacy challenges.
Assist staff with general I.T. related issues.

The most interesting work I ever did

I designed an electronic payment solution for a large retailer in Southern Africa with the aim of tailoring to an extremely broad range of digital payment mechanisms through a single payment platform. The challenge was seemingly insurmountable. However, with a strong team thinking outside the box, we were able to achieve this goal with a single hardware provider and backend payment processing platform.

The most rewarding work I ever did

When I started my career, I was blessed to have a wise and patient mentor who I will always deeply appreciate. Since then, I have become a mentor myself to several younger individuals and to see the changes in them while they develop from "strength to strength" is the most rewarding undertaking I have ever embarked on.

Pastimes

Exploring the less travelled paths, scuba diving and spending time with the people who are most valuable to me.
Always learning about the world we live in through the study of history and the natural world.
Reading and studying philosophy to better understand humanity.

Business style

I have always been a big picture thinker. I am always looking to the future and the roadmap to getting there.
Development focused: everyone has good ideas. My aim is to pull them together.
Challenge and solution-orientated

Languages I speak

A sample of my global business experience

I have assisted several global organizations in achieving their goals through good solutions and enterprise architectural practice.
Contact our firm
Your query will be handled promptly by one of our in-house experts based on the nature of your query and your country of interest.