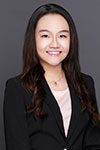 Lu Roujia | Client Relationship Officer
I joined Healy Consultants Group PLC in 2021 as a Client Relationship Officer (CRO) Intern. With a strong interest in finance, I will be pursuing further studies in Economics at the London School of Economics (LSE) in 2022. I'm excited to be part of the Healy Consultants team, to work together with the CROs and achieve our Clients' goals together.
My business goals

To provide high quality service for Healy Consultants' Clients and gain valuable consulting experience.
To gain knowledge of business environments and apply them to formulate strategies effectively.

My daily work schedule

Liaise efficiently with related parties regarding Clients' engagements.

Conduct research and produce quality deliverables for Clients.

Work on ad-hoc tasks to support my colleagues' engagements.

The most interesting work I ever did

Conducting research on the relationship between a country's economy and its politics, focusing on Cambodia.

The most rewarding work I ever did

While still in school, I spearheaded a college-wide appreciation project targeted at frontline organisations (Changi Airport Group, Maritime and Port Authority etc.), producing tokens of appreciation – including frames with appreciation messages, which were displayed at the respective locations. It was rewarding to see the smiles of the frontline workers!

Pastimes

Travelling
Reading up on topics of interest
Spending time with family and friends

Business style

Fast learner, efficient team member

Adaptable and responsible

Languages I speak

English, Chinese, Shanghai dialect and intermediate Spanish

A sample of my global business experience

Conducting research on niche business environments in various jurisdictions including Hong Kong, Philippines, Sri Lanka, Indonesia and Singapore.
Contact our firm
Your query will be handled promptly by one of our in-house experts based on the nature of your query and your country of interest.