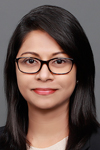 Pam Tharmaraja | Senior Client Relationship Officer
I joined Healy Consultants Group in 2022 as a Senior Client Relationship Officer. I used to work at an international bank, serving high net worth clients and moved on to the civil service, thereafter.
My business goals

To assist clients with seamless global business set ups, with transparency and honesty;
To gain knowledge and better understanding of the international business environment.

My daily work schedule

Client engagement;

Liaising with various stakeholders such as international suppliers and corporate banks.

The most interesting work I ever did

Performing comparative analysis for a client to decide between various jurisdictions for business setup.

The most rewarding work I ever did

Working with government agencies to aid low-income families.

Pastimes

Business style

Responsive

Attentive

Meticulous

Languages I speak

A sample of my global business experience

EG: Acquired, managed, and retained the financial portfolios of high net worth, offshore clients.
Contact our firm
Your query will be handled promptly by one of our in-house experts based on the nature of your query and your country of interest.