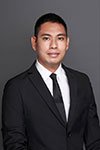 Pravin Parmalingam | Legal & Compliance Officer
I joined Healy Consultants Group PLC in April 2021 as a Legal & Compliance Officer. I am a Singapore-qualified lawyer who previously specialised in family law, civil and criminal litigation. Now, I'm using my legal knowledge and experience to assist Healy Consultants Group PLC's multinational Clients and staff.
My business goals

Constantly improve my practical knowledge of both domestic and international AML/CFT policies, practices and frameworks;

Ensure that robust and feasible AML/CFT measures are implemented to mitigate and minimise risks to Healy Consultants Group PLC;

Ensure that legal agreements and contracts entered into are mutually beneficial to both Healy Consultants and our valued clients / suppliers;

Exponentially develop my commercial awareness and skills in global business set up, accounting, taxation and corporate secretarial matters.

My daily work schedule

Assessing the risk of potential Clients and conducting ongoing monitoring of our existing Clients;

Assisting staff members with legal and compliance-related queries;

Liaising with various stakeholders (including Clients and government agencies) to ensure Healy Consultants Group PLC's compliance with laws, rules and regulations;

Reviewing agreements and KYC documentation;

Finding feasible and effective solutions for Clients and staff.

The most interesting work I ever did

Stocktaking and familiarising myself with various artworks, jewellery and porcelain vases for a high net worth Client, in preparation for pre-trial mediation.
Obtaining full instructions from Clients for the drafting of their affidavit via WhatsApp call whilst they were literally on the road in rural India, where mobile internet was intermittent.

The most rewarding work I ever did

Helping a client navigate lingering child custody / access issues during the post-divorce, recovery phase. There is no greater sense of reward and achievement than safeguarding a child's right to experience love and affection from both parents.
Volunteering in a soup kitchen and distributing food rations to needy families in Singapore.

Pastimes

Jogging and going on long hikes;
Watching documentaries and films on social issues;
Exploring new and relatively unknown places.

Business style

Dedicated and resilient;

Empathetic and thoughtful;

Adaptable and progressive.

Languages I speak

English, Tamil and currently learning basic Mandarin.

A sample of my global business experience

Assisted in a complex estate distribution where the beneficiaries were spread across multiple continents and time zones. This involved liaising with lawyers in other jurisdictions as well.

Rendered legal services for

i)

foreign expatriates in Singapore and

ii)

foreign-based clients seeking to commence / defend legal action in Singapore.
Contact our firm
Your query will be handled promptly by one of our in-house experts based on the nature of your query and your country of interest.