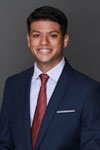 Previn Pampan Sudhir | Client Relationship Officer
I joined Healy Consultants Group PLC in July 2020 as a Junior Client Relationship Officer. Before that, I used to work for a Sales and Marketing firm. With the engagements I have taken on, and the harmonious relationships I have forged with my co-workers, I have honed my skills and qualities – not only as an individual but as a team player to better assist the clients of Healy Consultants Group PLC.
My business goals

To be an industry expert in the consulting industry in 2 to 3 years, and someone to whom others can go for strategy, solutions and advice.

To provide and produce high quality work, and always ensure high standards of service, for our Clients.

My daily work schedule

Contacting Clients to assist with their business needs, and providing timely weekly updates with regards to each engagement.

Calling Clients with regards to sales emails, and providing them the necessary information for their business setup needs.

Providing multiple deliverables, including research work on deliverables such as business plans and skeleton tables.

The most interesting work I ever did

I worked as a brand ambassador for almost two years in my previous job, helping close sales for brands such as Singtel, Domino's and Starhub in Singapore. I had experience in both B2B and B2C lines.

The most rewarding work I ever did

Interacting with various Clients in the B2C line during my time as a brand ambassador, helping to close sales for Clients from all walks of life. That truly highlighted the different scenarios and struggles I faced and the different strategies I had to utilise in those situations. It has stayed with me until today, and I am sure it will prove as crucial as it was rewarding for me in my career.

Pastimes

Working out during the weekends, exercising by going on long runs.
Playing football, watching football and generally, being obsessed with football.
Catching up with friends at the weekend over a cup of coffee.

Business style

I aspire to learn every day. Knowledge is power, and I intend to gain as much of it as possible.

Thoughtful and informative, for the benefit of my Clients and colleagues.

Languages I speak

A sample of my global business experience

Preparing business plans, detailed project plans and deliverables on time for multi-national clients based in various jurisdictions like Singapore, Hong Kong, Taiwan, Malaysia and South Korea.
Contact our firm
Your query will be handled promptly by one of our in-house experts based on the nature of your query and your country of interest.