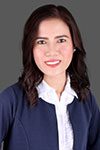 Rachel Abias | Human Resources Officer
I joined Healy Consultants Group in August 2021 as a Human Resources Officer. Prior to that, I worked in an IT software company in Dubai as Administrative Assistant.
My business goals

To obtain substantial experience and deepen my understanding in HR functions.
To enrich a fun and healthy working environment.

My daily work schedule

Supporting recruitment function by screening applications, connecting with potential candidates, and assisting hiring managers.
Administer onboarding / new hire induction process.
Updating staff leave records.

The most interesting work I ever did

I worked in a social research institution in the Philippines where we gather data through conducting surveys on social, economic, and political views. I had a chance to interview SME owners. I met several politicians, TV personalities who run in the election and from media who covered the campaigns and election during that time. I learned a glimpse of their political background and plan.

The most rewarding work I ever did

In general, the most rewarding is whenever I feel that at the end of the day at work, I was able to accomplish tasks and was able to help my colleagues beyond what I was asked to do. It is a great feeling knowing that others will value your work.

Pastimes

Watching videos
Reading inspirational books / articles

Business style

Honest
Adaptable
Responsible

Languages I speak

A sample of my global business experience

Recruitment process and onboarding new hire in Qatar, Egypt and Oman.
Contact our firm
Your query will be handled promptly by one of our in-house experts based on the nature of your query and your country of interest.