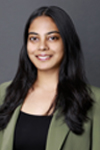 Rashi Garg | Senior Client Relationship Officer
I joined Healy Consultants Group PLC in March 2023 as a Senior Client Relationship Officer. I am a Chartered accountant and previously worked as business advisor for a company in India.
My business goals

I want to broaden my knowledge base and develop my soft skills.
Obtain experience in connecting with clients from different part of the world.

My daily work schedule

First thing to is to make a "to do list".
Advancing customer engagements and assisting them in establishing their businesses.

The most interesting work I ever did

To be a business advisor for a newly incorporated company and advising them on their Internal controls and financial concerns.

The most rewarding work I ever did

To work with a social work organization, teaching and providing food to people living in slums.

Pastimes

Business style

Languages I speak

A sample of my global business experience

Connecting suppliers, clients, and shipping companies with each other and regularly coordinating with them to guarantee the smooth flow of operation of the business.
Contact our firm
Your query will be handled promptly by one of our in-house experts based on the nature of your query and your country of interest.