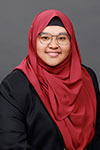 Ratna Kartika | Administrative Officer
I joined Healy Consultants Group in December 2022 as an Administrative Officer. Prior to that, I worked at a Physiotherapy Clinic as a Senior Administrator handling client communication and staff training. Now I use my skills and knowledge to assist Healy Consultants Group's Clients and staff.
My business goals

To deepen my knowledge and strengthen my understanding of Administration and HR functions.
To assist the management and fellow colleagues with efficiency, and to be an asset for the company.

My daily work schedule

Providing support to the relevant departments.

Assist HR manager with staff leave records.

The most interesting work I ever did

During the pandemic, I was part of the team arranging conveyance for covid patients into the respective facilities. I saw how quickly new ideas was tested and implemented to improve the processes.

The most rewarding work I ever did

While working in the Customer Service, it was rewarding for me when I was able to address customers concerns and provide solutions for their issues.

Pastimes

Travelling
Watching documentaries on Netflix
Reading

Business style

Hardworking and Responsible
Adaptable

Languages I speak
Contact our firm
Your query will be handled promptly by one of our in-house experts based on the nature of your query and your country of interest.