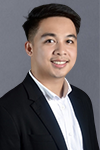 Redentor Sagun | Legal and Compliance Officer
I joined Healy Consultants Group in February 2023 as a Compliance Officer. Prior to that, I worked in a financial institution in the UAE for 8 years.
My business goals

To ensure strict compliance and adherence to local and global regulations related to Anti Money Laundering and Combating Terrorism Financing.
To continuously update my knowledge in AML trends and international compliance.
To actively spread awareness on the importance of compliance within my organization.

My daily work schedule

Assisting our global staff to timely and accurately complete Know Your Customer and Know Your Supplier procedures.
Enhanced Due Diligence procedures.

The most interesting work I ever did

I tried a virtual assistant job for two months and I earned a good sum of money from this.

The most rewarding work I ever did

During my college year, we conducted an outreach program to the families affected by typhoon in Mountain province Philippines.

Pastimes

Dragon boat
Exploring new places

Business style

Goal-oriented
Multi-tasker
Enthusiastic

Languages I speak

A sample of my global business experience

Assisting clients, in my previous work, with international fund transfer services and exposure with global financial institutions in relation to compliance.
Contact our firm
Your query will be handled promptly by one of our in-house experts based on the nature of your query and your country of interest.