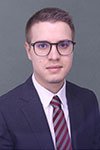 Sami Fadlallah | Junior Client Relationship Officer & Economic Researcher
I joined Healy Consultants Group PLC in June 2021 as an Economic Researcher and Junior Client Relationship Officer. Prior to that, I worked on research and business development for a UAE based fintech firm.
My business goals

To become an expert at global incorporation structuring and provide effective research to Clients;
To expand on my analytical and Client management skillsets.

My daily work schedule

Researching global incorporation, banking and tax considerations;
Assisting CROs with project managing Client engagements;
Developing content for the business website and media outlets

The most interesting work I ever did

Worked on a project in Saudi Arabia that was received by the Public Investment Fund (PIF) and Ministry of Investment (MISA).

The most rewarding work I ever did

I was part of a team that developed and managed a start-up project from the conceptual phase to its establishment. My team and I trained every bank employee on MS Office 365 and its applications, installed the application on their computers. It was challenging for me because not only was I was managing a team, but I also had to focus on my performance independently. It took three months to successfully complete the project.

Pastimes

Reading books and articles, playing chess, learning new instruments, watching sports.

Business style

Detail oriented;
Pragmatic;
Collaborative.

Languages I speak

A sample of my global business experience

Researched and visualized information on incorporation structures and considerations that assisted a Client in expanding their operations in the USA.
Contact our firm
Your query will be handled promptly by one of our in-house experts based on the nature of your query and your country of interest.