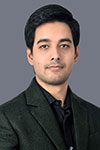 Sharib Suhail | Media Officer
I joined Healy Consultants Group in May 2022 as a Media Officer. Before this, I used to work as a Communications Officer for a UK based Human Rights Organisation, Equidem. In the past, I led the digital and communications department for the University of Chicago, Energy Policy Institute. I am a UGC NET Mass Communication and Journalism certified professional and a former journalist. Now I use my expertise, knowledge, and skills to lead and manage strategic communications of Healy Consultants Group's Clients and staff.
My business goals

To gain extensive knowledge and experience in the communications field and work towards expanding, maintaining, and translating the brand reputation to their various audiences.
To be able to confidently advise how to generate leads and social media traffic for Healy Consultants and build robust crisis communications strategies.
To understand the strategic communication needs of business owners and engage effectively in external communication and at the same time contribute towards improving employee engagement.

My daily work schedule

Developing social media strategy, including

i)

setting KPIs and

ii)

monthly and annual campaign goals

iii)

identifying future trends and new social media marketing opportunities

iv)

developing content calendars

v)

preparing work plans and

vi)

preparing budget proposals.
Creating an integrated communications strategy focusing on digital/branding and PR plans that generate earned awareness and advocacy.
Curate content that helps in cultivation of leads and sales along with the management of brand's reputation across all formats.

The most interesting work I ever did

Conceptualised, designed and created a communications digital multimedia project for one of the projects related to Air Pollution deaths globally. The project was the first one of its kind aimed at taking a lead against all contemporaries in the industry. The interactives were picked up by Indian leading media houses.

The most rewarding work I ever did

Led social media strategy of the University of Chicago, Energy Policy Institute, Delhi office. There have been several instances that the posts have been picked up by parliamentarians, government officials and celebrities on social media raking in an exponential growth in audience impression on the webpages and social media accounts.

I have been the youngest member to be included in the Prevention of Sexual Harassment Policy at Workplace (POSH) committee at the University of Chicago, Delhi office.

I have been awarded twice "journalist of the month" award for conducting ground reporting for Indian Express, one of the leading dailies of India.

Pastimes

Traveling and exploring newer places
Acquiring new digital skills
Reading books

Business style

Hardworking and Perseverant
Team player
Honest

Languages I speak

A sample of my global business experience

Preparing result oriented strategic communications, digital and social media plans for companies in USA, UK and India and overseeing the media reportage on different projects.
Contact our firm
Your query will be handled promptly by one of our in-house experts based on the nature of your query and your country of interest.