Client Engagements Department in 2022


Simon is the director of Healy Consultants Group and country manager of our Singapore office
Organisation Chart
*Please click the box below for more details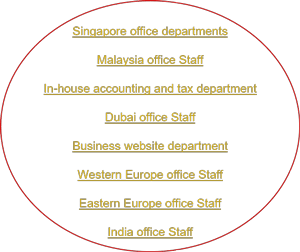 Econ Department
Economic and Business Research Department Activities
Mainly based at our Singapore office, Healy Consultants Group PLC's econ and business research department is responsible for the following:
Produce quality content to be published on our website and social media network;

Assist other staff members to solve legal and technical engagement challenges;

Supply engagement strategy documents and detailed comparison tables to our Clients.
Multi-national Clients' engagements
Our team includes fluent speakers in i) English ii) Russian iii) French iv) Mandarin v) Hindi and vi) Bahasa. Our team usually project-manages engagements in countries including i) Singapore and other ASEAN countries ii) Mainland China, Korea and Hong Kong iii) India iv) Australia and New Zealand as well as v) France, the UK, Germany, Spain and other European countries.