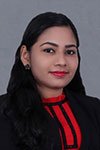 Suganthi Selvarajan | Accounting and Tax Officer
I joined Healy Consultants Group PLC in August 2019 as an Accounting and Tax Associate. Before that, I used to work for an electronic component manufacturing company. I graduated from Sunway College Johor Bahru with a Bachelor in Business major in Accounting. Now I use my skills and knowledge to assist Healy Consultants Group PLC's clients and staff.
My business goals

Enhance my skills and knowledge on accounting and taxation for different countries;
Ensure client's companies annual return, accounting and tax obligation are filed on time.

My daily work schedule

Assisting clients with their companies annual accounting and tax obligation;
Preparing management account and financial statements for our client companies;
Filing annual returns and business registration for Hong Kong companies;
In charge of company secretarial matters for our clients including preparing resolutions, ACRA and IRAS filings;
Liaising with government authorities on behalf of clients and Healy Consultants Group PLC;
Securing extension from penalties and negotiation with Hong Kong IRD and IRAS;
Helping clients to handle deregistration for Hong Kong companies.

The most interesting work I ever did

The most interesting work I did was the final year project during my degree studies in University, where my team and I decided to do a project on start-up business and won 3rd place on the overall competition.

The most rewarding work I ever did

Assist one of the foreign suppliers with two years of pending payment issue in my previous workplace by handling company's necessary procedures to settle the payment issue.

Pastimes

Listening to songs, watching movies and television series, spending quality time with my family and friends.

Business style

Organized;
Responsible;
Honest;

Language I speak

English, Tamil, some Hindi, and Malay.

A sample of my global business experience

EG: Preparing accounting and tax reports for multi-national clients based in various jurisdictions like Singapore, Hong Kong, Australia, and New Zealand.
Contact our firm
Your query will be handled promptly by one of our in-house experts based on the nature of your query and your country of interest.